Mizuno is taking things up a notch with three stunning new additions to their JPX line.  Traditionally, JPX Irons have been geared towards game improvement and forgiveness, but those clever engineers over at Mizuno have found some new space-age metal that make up these irons that both tour players and bogey golfers are going to love.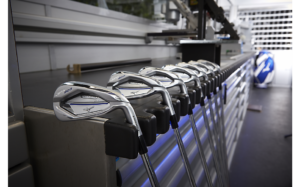 Today, we're focusing on what we think is probably the coolest new addition to the JPX line: the JPX 900 Hot Metal Irons. So, when you are standing over your ball, you see a beautiful, eye catching blade look, but still comes with the muscle behind it. When you strike your ball, in some cases you can actually "feel" your ball compress which reminds you of that soft and solid feel that Mizuno is known for.
A new steel alloy material with the catchy name of Chromoly 4140M allowed Mizuno club designers to create a full 360-degree deep undercut on the back of the iron, giving it the thinnest face in company history at just two millimeters. The face on the Mizuno JPX-900 Hot Metal Irons is incredibly hot.  The ball comes off the club face extremely hot, giving you faster ball speeds and more distance. That funky new Chromoly metal combined with the 360-Face Cup Technology allowed Mizuno club engineers to create a club face with varying thickness and an expanded hitting area. A larger club face means a more forgiving club.  In a nutshell, your mis-hits are going to be straighter and shots hit well will show even better results. The face on the JPX-900 Hot Metal Irons is incredibly thin and it's kept strong with Mizuno's Power Frame. The sound at impact is one of the best we've heard and that definitely inspires confidence.
Mizuno actually removed their handicap spectrum with the new lines of clubs, so they aren't specifically recommending the Hot Metal Irons for a specific golfer.  That being said, the club face is a bit smaller than previous JPX generations, which better players will appreciate, while the new technology makes it a more forgiving iron, which is great for mid-high handicap golfers.
Mid-handicap golfers (5-16 handicaps) will probably see the biggest benefit from these irons, but better players and players with high handicaps could also benefit from the forgiving and fast technology.  Your best bet is to meet with a Mizuno Certified Custom Fitter where you can test the Mizuno Hot Metal Irons along with several options to find the best club for your game.
The stock shafts is True Temper's Dynamic Golf AMT, the interesting piece about these shafts are that Mizuno went with an ascending weight design to improve the overall performance of each iron. Meaning, the 4 iron is going to be lighter than the pitching wedge. The lighter iron on the longer shaft will help golfers get more height on the ball from farther out allowing them a better height coming down and holding greens. The heavier shaft for the pitching wedge will allow better control for those shots when you have to be on target.
Mizuno JPX-900 tours retail for $1,199 and come in steel or graphite, also there is no upcharge for custom shafts or grips.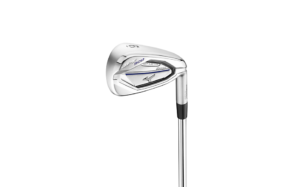 TECH SPECS
CHROMOLY 4140M:
15% stronger material than 17-4 pH Stainless steel provides the added strength for our hottest face ever.
Ultra-thin face combined with our re-engineered CORTECH multi-thickness design provides superior initial ball speed for maximum distance.
POWER FRAME:
More mass is pushed to the extreme perimeter of the club head for industry leading MOI POWER FRAME geometry is a result of our Harmonic Impact Technology. The rigid POWER FRAME provided an extremely solid impact sound while allowing maximum face rebound.
UNITIZED CUP FACE GEOMETRY:
Through complex development techniques we were able to achieve Unitized Cup Face Geometry, delivering a massive COR AREA.
Unitized Cup Face Geometry also provides more discretionary weight than welded cup face designs, thus allowing for a deeper CG and greater forgiveness.